When blogging first started, you'd have been hard-pressed to find anyone who imagined B2B brands would one day use this as a strategy to build leads. However, that is exactly the function of B2B blogging today.
Leading brands utilize B2B blogs for lead generation, thought leadership and a platform to engage with their followers. In fact, many of the larger companies have multiple blogs that span across their capabilities with a variety of writers and editors.
Blogging is now considered so important that brands are building internal newsrooms to keep up with the amount of content they want to write for their audiences.
As advocates of good blogging, we've compiled a list of B2B blogs that stand out from the rest. Generally, SaaS leads the way in blogging best practices. But for the sake of diversity, we decided to add some of the best from other industries as well.
Here are the top 10 B2B blogs we like to read:
1. HubSpot – Any list of good blogging examples starts and ends with HubSpot. They have two blogs for marketing and sales, covering everything from office life to Big Data. Need an indicator of the blog's success? Look up a marketing question and you can bet your lunch that HubSpot covered it and is a top search result. HubSpot's blog posts are informative and often contain useful how-tos that can walk you through almost any marketing or sales problem.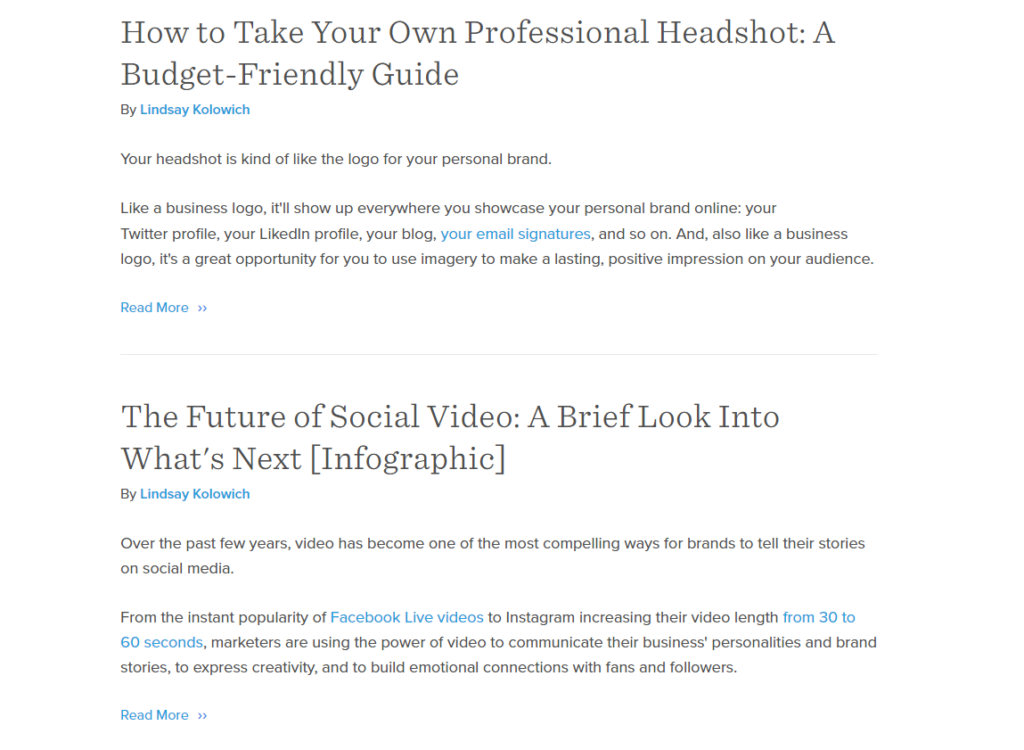 2. Maersk – Maersk has an uncanny ability to make its main industries (shipping and energy) into fascinating, must-read material. The blog features customer stories, but these aren't written like traditional case studies. Rather, they'll talk about shipping voyages, educational training or a human interest story that ties in Maersk use cases with real-world problems. Many of their blogs link to various service pages on their website in order to offer context behind the different stories.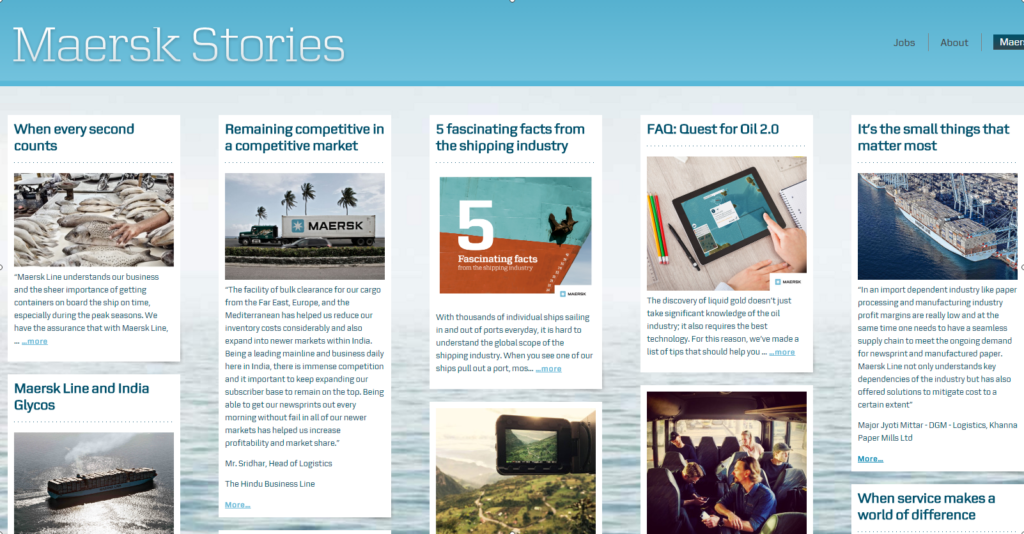 3. General Electric – "GE Reports" is one of the most visually appealing blogs you'll ever find in a B2B realm. The visuals used are unparalleled by any other B2B blog you might come across. In addition, the posts have headlines that are so good they're practically click-bait. Most headlines are interesting and the stories are futuristic with a strong tech focus. As one of America's oldest companies, GE is repositioning itself using "digital transformation" messaging, and the blog is its best example of proving it means what it says.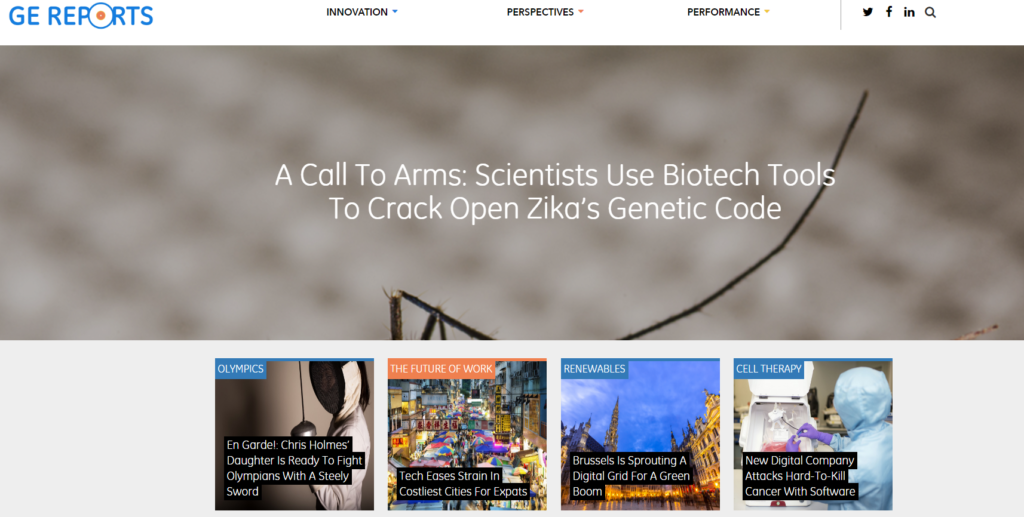 4. Adobe – If you thought "CMO," was a marketing publication, nobody would blame you. The blog has a clear editorial angle that is highly targeted towards CMOs with in-depth interviews, videos, podcasts and relevant news. What stands out most about Adobe's approach to blogging is that it doesn't think it has all the answers. The brand regularly posts and solicits guest posts, so it's not the only voice on the site. It also has a marketing news feed on to bottom of the page with relevant third-party content on a daily basis. For brands looking at the future of blogging, Adobe's newsroom is a perfect example of brand journalism.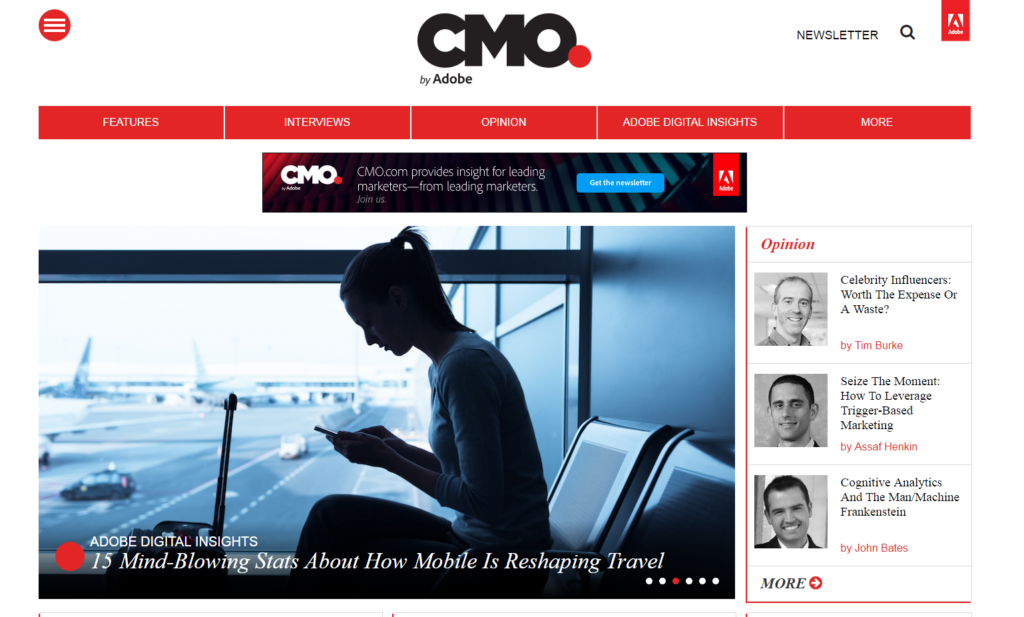 5. IBM – IBM has multiple blogs that home in on its different practice areas. However, the one we're most impressed with is THINK. While it doesn't have a lot that pops out as a blog different from the rest, its content ties into the title, which is a long-standing slogan of IBM. Here's another example of an older company that needed to pivot in order to stay relevant and it has with great success. Many of its blog posts tie into its most recent offering, IBM Watson, a platform that uses natural language processing and machine learning to reveal insights through Big Data. This gives IBM an outlet to talk about many business problems relating to tech and analytics with true industry thought leadership.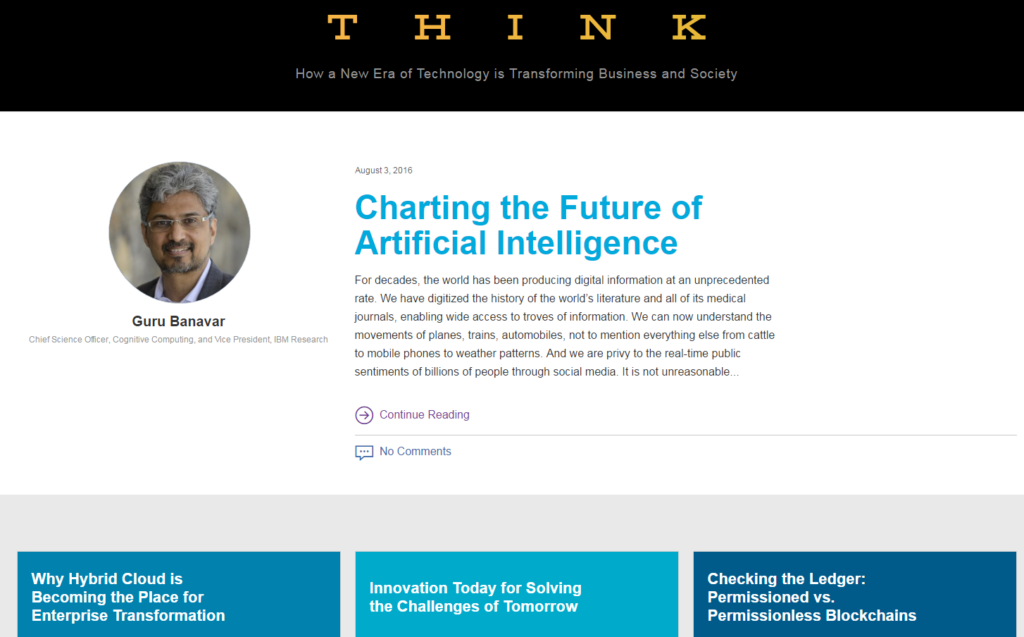 6. Cisco – The amount of content across industries and technologies is second to none here. As another brand with several blogs produced by its own employees, it provides users with knowledge across all of its capabilities. It also has a navigational structure that allows the user to filter for what they want. Regardless of where you look, there is a strong tech focus for every industry it covers. While the design is simple, its content is anything but.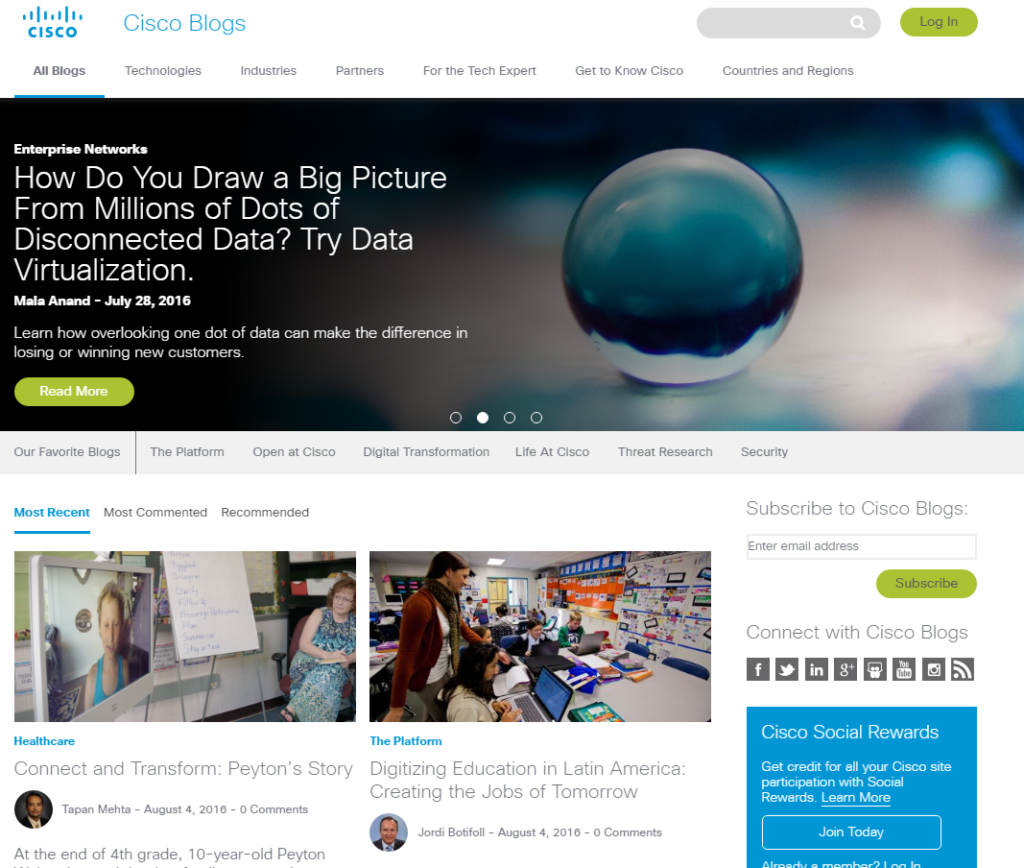 7. John Deere – A B2B products company who does what a B2B products company should do on its blog: show a lot of video and pictures. The blog has several HD videos featuring customers and highlighting its capabilities. While many posts are more product-centric and less about thought leadership, JD knows their audience and what is most important to them – in this case product information. Most of their customers already know the problem they want to solve and are looking at which features fit their needs best when making a purchase. The visuals and descriptions help accomplish that.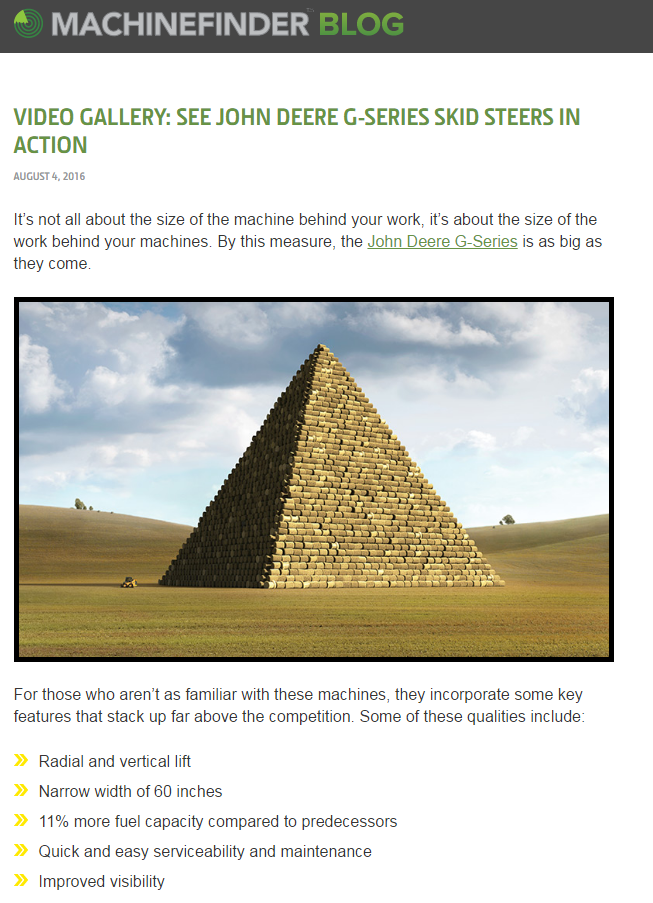 8. DHL – The logistics company positions its blog as a resource for small- and medium-sized businesses, covering a variety of topics beyond logistics (even social media). Its insights are often how-tos or tip sheets, not too different from HubSpot, but certainly more infrequent. DHL doesn't post often, but when it does, the topics are usually futuristic with eye-catching visuals or videos to go with the content.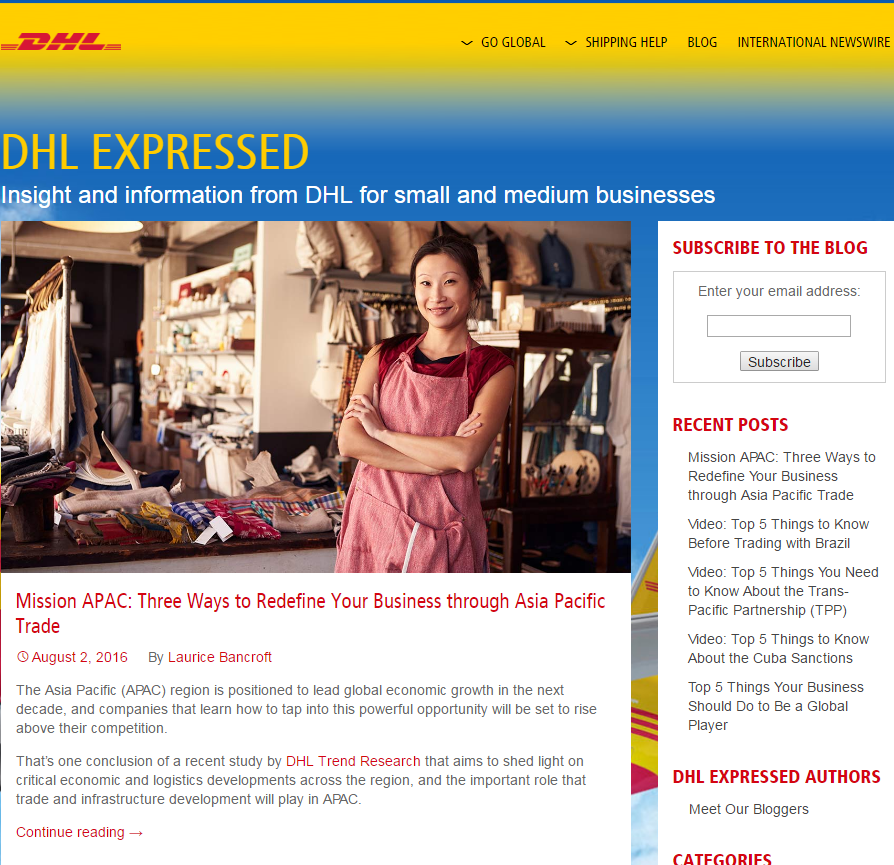 9. SAP hybris* – When you think of Future of Commerce (the name of SAP hybris's blog), the first thought that might come to mind is how much it resembles Mashable. Between the navigation and types of articles available, the focus is on insights concerning commerce, marketing and other topics concerning the customer experience. The site has an easy to navigate design that's clearly meant to be responsive. The post pages are some of the most engaging you'll find on a B2B blog as there are suggestions for other posts displayed prominently on the right side of the page. And of course, the visuals are eye-catching, making the site more compelling to the reader.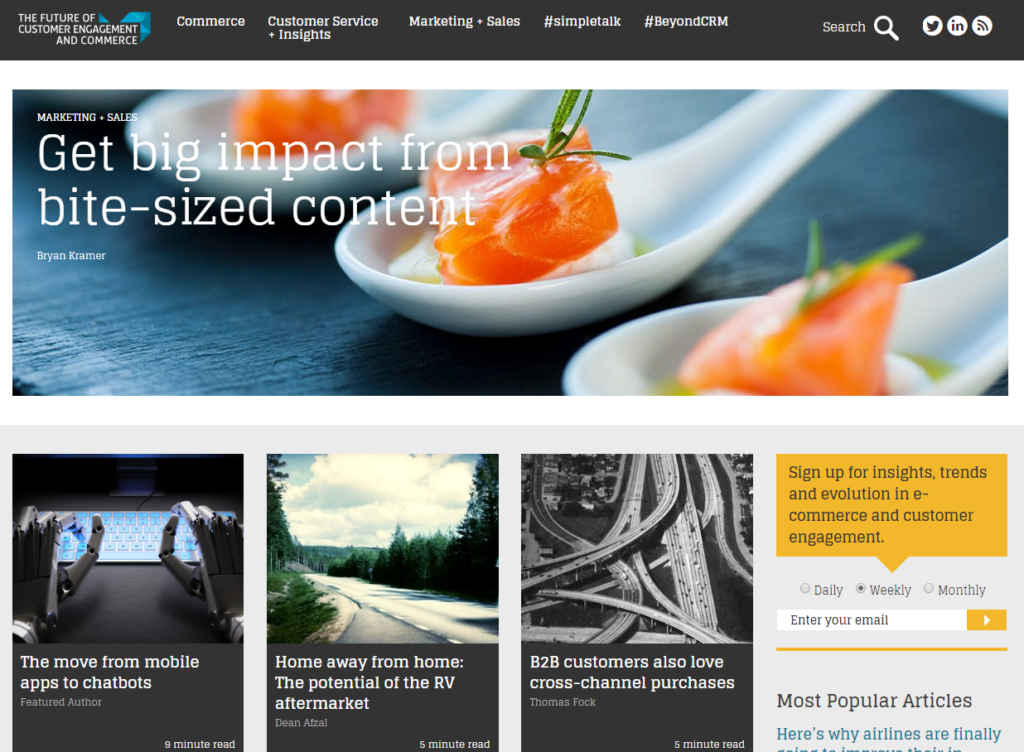 10. Slack – There's nothing about Slack's blog itself that really stands out, except for one thing. Its blogging platform is on Medium. Think of the benefits of Medium to be similar to writing long-form content on LinkedIn. Unlike a blog on your own website, where you have to build up traffic over time, Medium is already a high-traffic site, making it easier to ensure your posts are gaining exposure. However, it's important to note that since Medium isn't part of your website, all that traffic is going to Medium's site and not yours; for the same reason, it's not helping your company's SEO. However, with an audience flush with bloggers, tech professionals and potential customers, Medium makes good strategic sense as Slack's blogging platform.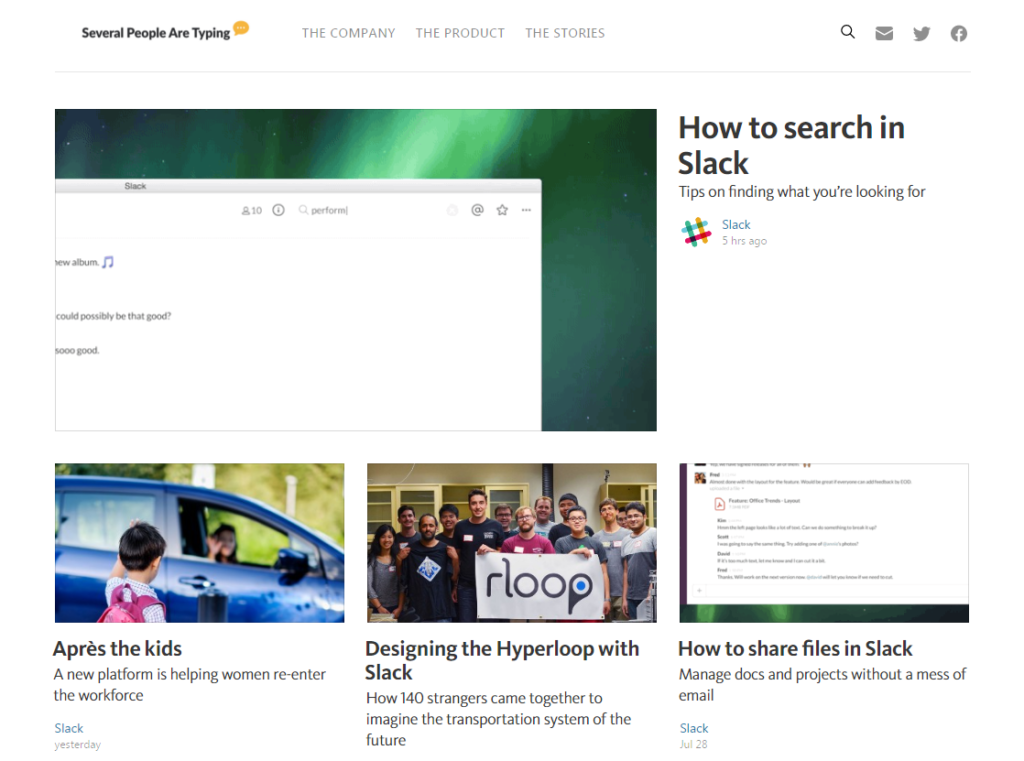 Even if you don't have a corporate newsroom available for your B2B blog, creating one that works towards your overall business goals is easier than you think. To get started, find a team of writers who are willing to contribute once per month. Or if you have a few good copywriters, they can interview select thought leaders to ensure there's fresh, quality content getting updated on the site.
Looking for help on blogging for a B2B audience? Read our guide on B2B blogging or contact us at info@lrgmarketing.com.
*Previous client at another agency