key findings from the report
Suppliers and manufacturers are using email marketing to nurture leads and keep customers updated on new releases. The findings address some of the biggest challenges faced by brands in physical security today. Here's a quick overview of the findings from our research:
ONE | Security buyers are inundated by emails from brands almost on a daily basis and many are tuning out this messaging.
TWO | Manufacturers face a threat of disruption from newer, more agile companies that are technologically advanced.
THREE | Consumers are less interested in being sold to and instead want to be educated on the physical security space.
FOUR | Buying cycles are lengthening as security professionals are looking for fit rather than loyalty.
FIVE | An abundance of traditional and digital marketing channels makes it more difficult for brands to be heard.
Where do you read emails most frequently?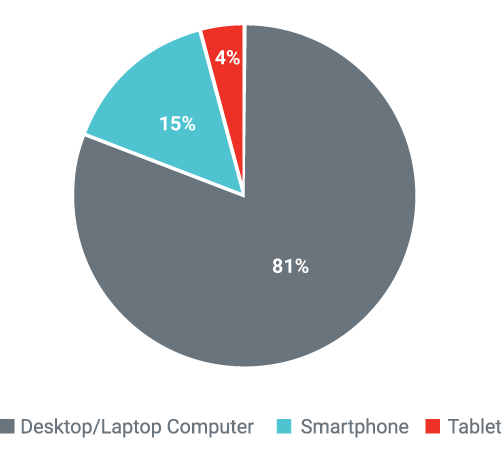 Historically, physical security professionals tend to be careful technology adopters. However, the industry is slowly moving towards reading and engaging with emails on mobile devices. In this study, 19 percent of security buyers reported reading marketing emails on a mobile device.
How often do you receive emails from a security supplier/manufacturer?
The results showed that 64 percent of respondents said they receive marketing emails daily, and an overwhelming majority of respondents open them (86 percent).

will click-through if relevant industry news is provided in the email
The study found that just over a third of respondents (37 percent) are looking for product information or special pricing. However, providing relevant industry news turned out to actually be the top reason for links to be clicked through at 44 percent.
What's the most likely reason you'd unsubscribe from an email marketing list?

of respondents unsubscribe because they don't see relevance to their business.
The LRG Marketing Communications Email Marketing Study reveals that security professionals are too inundated with emails. 34 percent said they will often unsubscribe from an email list if it doesn't feel relevant for their business. However, the most alarming cause for unsubscribes is that they don't see the relevance of the email to their company, with 55 percent of respondents describing that as the top reason for unsubscribing from email lists.
Email marketing consumption habits by company type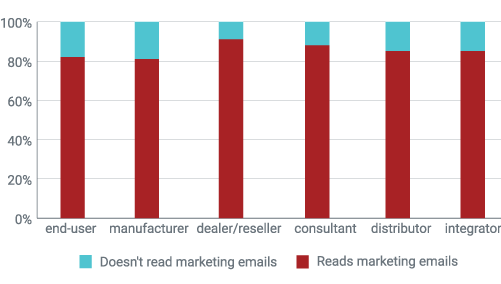 Reasons for email unsubscribers by company type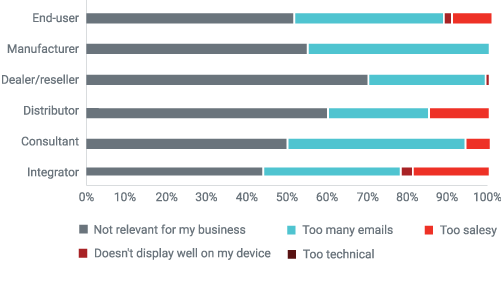 Considering dealers and resellers are ideal advocates for brands in the physical security space, marketers are wasting an opportunity to connect with a captive audience. Remember, when someone unsubscribes, it's the equivalent of tuning a brand out. As security professionals continue to be inundated with emails and feel less compelled to stay loyal, staying highly relevant in marketing communications is crucial to retaining customers and prospects.